Guest House Shukugawara
Photos/House Info

Vacancy Info/Floor Plan

Reccomend
House Info
| | |
| --- | --- |
| adress | 3-14-2 Shukugawara, Tama-ku, Kawasaki-shi, Kanagawa 214-0021 |
| Rent(JPY/Mo.) | Rent¥40,000 ~ ¥50,000 Utilities¥12,000 |
| Room(s) | 33 |
| Vacancy Info | vacancy |
| Access | 5 min. walk from Shukugawara sta. on Nambu Line. 25min. from Shinjuku.(by train) |
| Equipments(Community area) | TV (DVD player) , Kitchen , Living room (Wifi), Shower room , Restroom , Coin-operated Laundry , Fridge , Microwave , Rice cooker , Bicycle-parking area |
| Equipment(Room) | Air Conditioner , Futon set(Bedding) , Low table , Fridge , Wastebasket , Curtain,Internet |
| Other Explanation | Supermarket, Convenience store, 99yen shop, Bento shop, Post office are available around the station. |
| Other Expenses | Facilities use fee 30,000yen(at the first contract) / Renewal fee 15,000yen |
Rent
| Room No. | Rent | Utilities | Exclusive area sq. meters | Remarks | Vacancy Info | Move-in condition | Photo |
| --- | --- | --- | --- | --- | --- | --- | --- |
| 111 | 38,000 | 12,000 | 6.8Tatami | | | | |
| 112 | | | 6.8Tatami | | occupied | | |
| 113 | | | 6.8Tatami | Bed | occupied | | |
| 211 | | | 7.4Tatami | | occupied | | |
| 212 | | | 7.9Tatami | | occupied | | |
| 213 | | | 7.9Tatami | | occupied | | |
| 221 | 38,000 | 12,000 | 7.9Tatami | Bed | | | |
| 222 | | | 7.4Tatami | Bed | occupied | | |
| 223 | 38,000 | 12,000 | 7.9Tatami | Bed | | | |
| 231 | | | | | occupied | | |
| 232 | | | 7.9Tatami | Bed | occupied | | |
| 233 | | | 7.9Tatami | Bed | occupied | | |
| 241 | | | 7.9Tatami | Bed | occupied | | |
| 242 | | | 7.4Tatami | Bed | occupied | | |
| 243 | | | 7.9Tatami | Bed | occupied | | |
| 251 | | | 6.8Tatami | | occupied | | |
| 252 | | | 9.3Tatami | | occupied | | |
| 253 | | | 6.8Tatami | | occupied | | |
| 311 | | | 7.4Tatami | Bed | occupied | | |
| 312 | | | 7.9Tatami | Bed | occupied | | |
| 313 | | | 7.9Tatami | Bed | occupied | | |
| 321 | | | 7.9Tatami | | occupied | | |
| 322 | | | 7.4Tatami | Bed | occupied | | |
| 323 | | | 7.9Tatami | Bed | occupied | | |
| 331 | | | 7.4Tatami | | occupied | Bed/Flooring | |
| 332 | | | 7.9Tatami | | occupied | Bed/Flooring | |
| 333 | | | 7.9Tatami | | occupied | | |
| 341 | | | 7.9Tatami | Bed | occupied | Ladies only | |
| 342 | | | 7.4Tatami | | occupied | Ladies only | |
| 343 | 38,000 | 12,000 | 7.9Tatami | Bed | | Ladies only | |
| 351 | | | 6.8Tatami | Bed | vacancy | Ladies only | |
| 352 | | | 9.3Tatami | | occupied | Ladies only、 | |
| 353 | | | 6.8Tatami | Bed | occupied | Ladies only | |
Floor Plan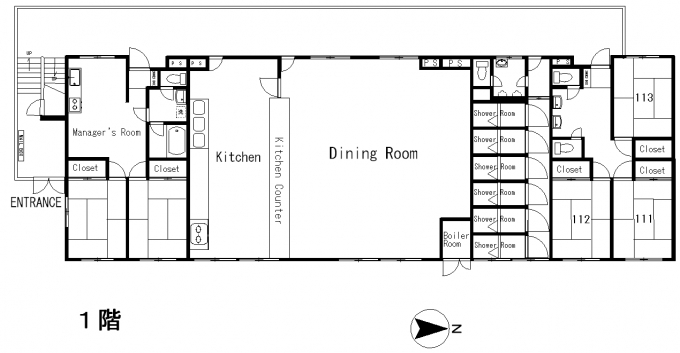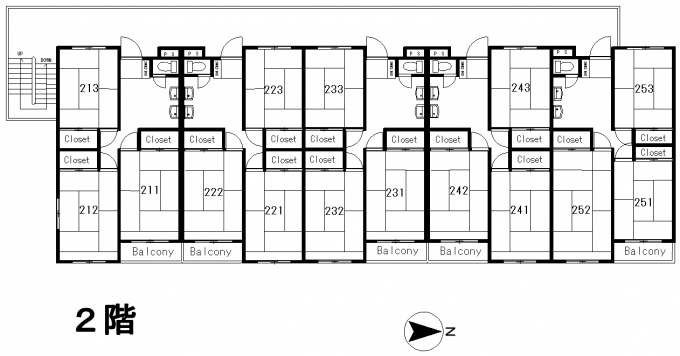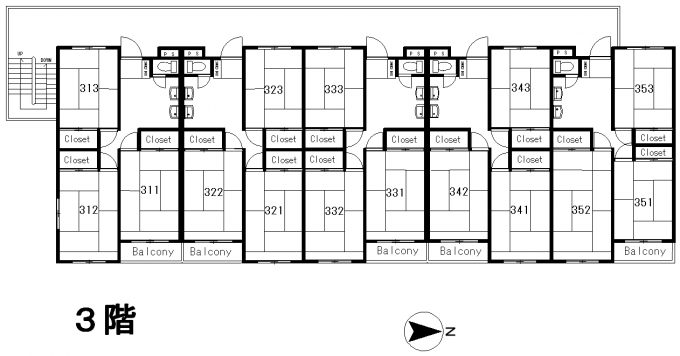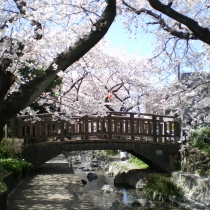 Guest House Shukugawara
Our guest house is located within five minutes on foot from Shukugawara Station of JR line where you can feel close to the nature, for example, the Tama River is running nearby and flowing as a water source into the historical canal with cherry-blossom trees all along it and the place is loved by the locals as an oasis. Our residents also enjoy cherry-blossom viewing party there every year. And our guest house provides Japanese-style room with a large space of closet, along with spacious dining room and kitchen, so, I'm sure you will feel at
ease and relax there.
The Map of Guest house Shukugawara