Room search
Favorite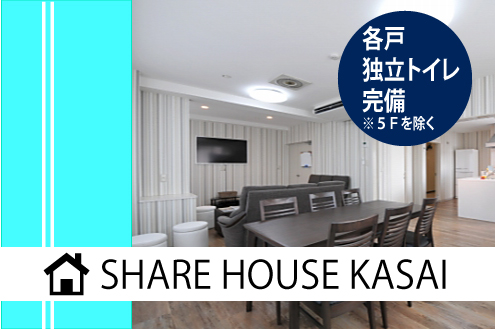 Strage space, toilet and washroom are furnished for each room! (Except for a few rooms)
9 min. walk from Kasai sta. on Tokyo Metro Tozai-line. 16 min. from Otemachi,15min.from Nihonbashi,2 min. from Urayasu.(by train.)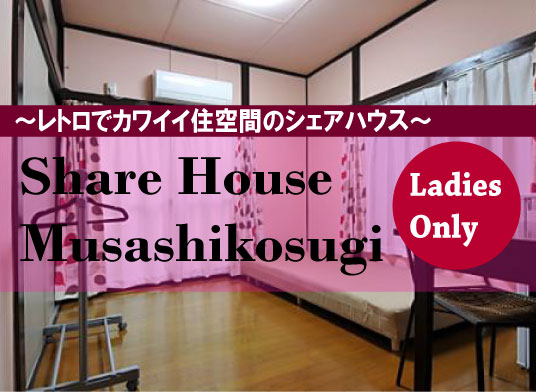 Lacated in Very populer town"Musashi-kosugi" Women only share house.
Tokyu-toyoko line,Tokyu-meguro line,Nambu line and Syonan-shinjuku line are available. Convenient access to Shinjuku,Shibuya,Yokohama and Kawasaki..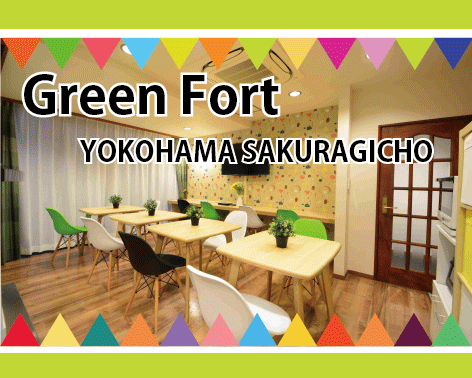 Single room has large space, and dormitory room has both private and common space. The share house is located on top of the hill with a fine view. There are Nogeyama park, Nogeyama zoo, and a library around the share house. You can spend a comfortable holiday!
It takes 11 minutes' walk from Sakuragicho station, and 5 minutes' walk from Hinodecho station. You can take Keihin-tohoku Negishi line, Yokohama line, and Yokohama blue line. There are many restaurants, convenience stores and super markets in front of Sakuragicho station. If you take Keikyu line, you can get to Yokohama in 4 minutes, Shinagawa in 27 minutes, and Haneda airport in 21 minutes from Hinodecho station. If you take Keihin-tohoku Negishi line, you can get to Kawasaki in 17 minutes. If you take Keihin-tohoku Yokohama line, you can get to Shin Yokohama in 14 minutes. It is really convenient to get to the downtown are, Yokohama and Kawasaki area.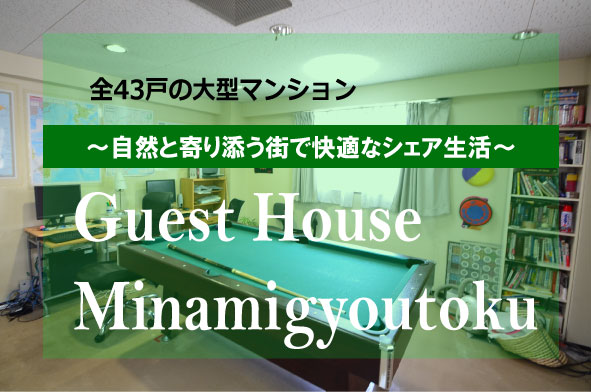 You can enjoy internatinal exchange with various people! Renovated interior in 2013.
There are drugstores,bookstore, Supermarket,restaurants around the station.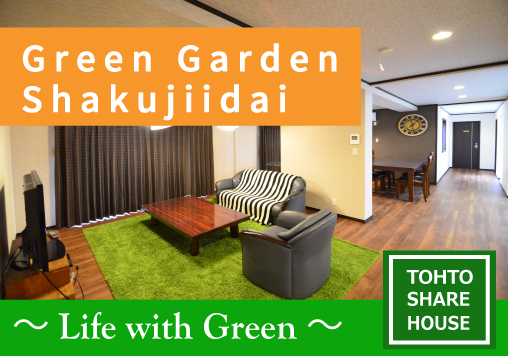 120%NEW share house is running special campaign now!!21 minutes from Kichijoji station by bus.We recommend seeing beautiful garden with various flowers , or enjoying BBQ with your friend or cycling around the house .
Does anyone want to live in quite new share house with new furniture!?You can meet your new share mate who wants to be your new friend:)Nothing better then spend your weekend with nice people in verrrry big and cozy living room!You can use the bicycle for free for your shopping or exercise:)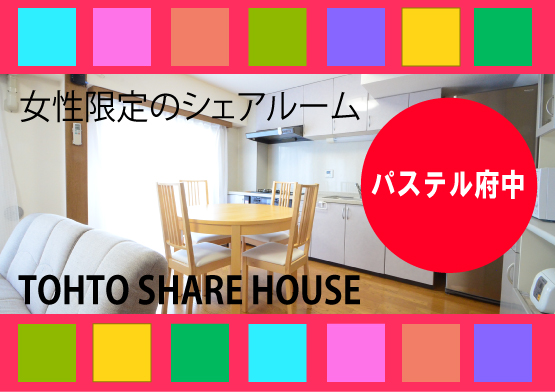 Women only share house!!Automatic locked entrance door,elevator and comfortable living room!!
There are big shopping center and Isetan around Fuchu Station. Only 1 minutes walk to convenience store,6 minutes walk to supermarket,3 minutes walk to Don-quijote, 14minutes walk to NITORI from the House. You can enjoy fireworks from the living room in the summer.
Good access to Haneda/Narita Airport.Located convenient spot!
Only 2 minutes walk to Tokyo city air terminal. 30 minutes~ 1 hour to Haneda Airport by limousine bus. 1 hour ~ 1 Hour and half to Narita Airport by limousine bus.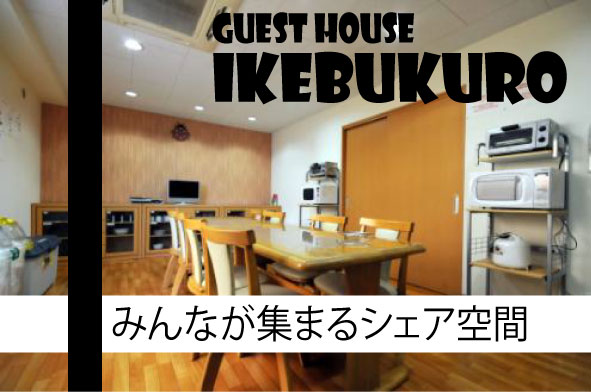 There are many tenants from overseas .20 minutes from Ikebukuro station on foot.You can enjoy international exchange.Only 7 minutes walk to Shimo-itabashi Station.Convenient location for any shopping.
Near all the transportation. Automatically lockable door. Some rooms have showers and bathrooms.Free internet in the room.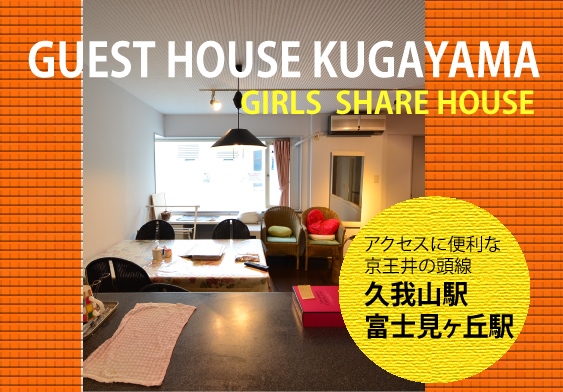 Women only share house. Located at very convenient station.
The house renovation has completed!!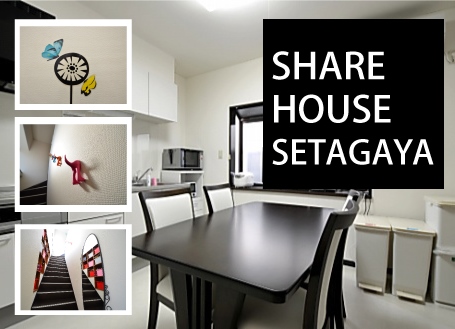 Located in very convenient spot, 6min. to Sangen-chaya station.
The house is located close by Syoin-jinja sta only 30 sec.walk,safe area at night time.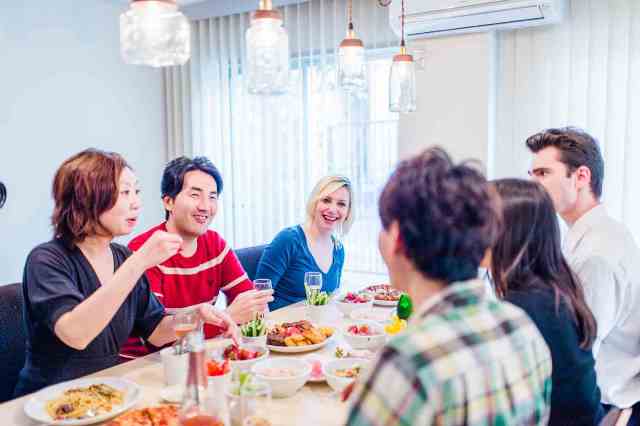 Special English Share house in Fuchu!!! Our English speaking manager will be supporting your stay!!You can get great knowledge from another tenants!!if you are English speaker,we can give you a discount for your rent!
**Special discount!!!** If you can speak English, we can give you special 20,000 yen discount on your utilities fee during your stay! 10,000 yen discount on your rent if you will stay in private room for first 1 year! *Need to pay Renewal fee of 30 percent rent (When you extend your contract) *The campaign may be changed without any notice. Let's exchange languages and learn about another cultures from residents!! We will put special discount if you are foreigner!!The house manager and also English speaking manager are living in same building!! Automatic locked share house 6 min. walk from Musashinodai sta. on Keio Line.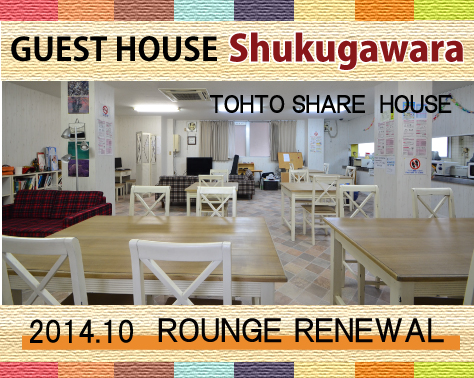 Wifi internet in living room.Various types of room.Big living room and kitchen. Enjoy the communication with tenants!
Supermarket, Convenience store, coffee shop, Bento shop, Post office are available around the station.
What's New