WILL Fuchu
Photos/House Info

Vacancy Info/Floor Plan

Reccomend
House Info
| | |
| --- | --- |
| adress | 5-38-1 shiraitodai, fuchu-shi, Tokyo |
| Rent(JPY/Mo.) | Rent¥30,000 ~ 70,000 / Utilities¥ 30,000※¥10,000 |
| Room(s) | 56(single type:45,dormitory:10,1dk:1) |
| Vacancy Info | vacancy |
| Access | 5 min. walk from Musashinodai sta. on Keio Line. |
| Campaign | **Discount Campaign for English Speakers!!!** 30,000 yen discount in total for English speakers! If you can speak English, you'll get 20,000 yen discount on utilities fee during your stay, and 10,000 yen discount on rent for private room for first 1 year! *Need to pay Renewal fee of 30 percent rent (When you extend your contract) *The campaign may be changed without any notice. |
| Condition | Man,Woman,Foreigner |
| Equipments(Community area) | Study room,Apple TV,Air conditioner,TV,Kitchen,Microwave,Refrigerator,Rice Cooker,Washing,Machine,Shower,Internet,Toaster |
| Equipment(Room) | Air conditioner,Bed,Desk,Chair,Fridge※There are 9 no furniture rooms (204,211,213,214,218,304,306,312,314) |
| Other Expenses | Renewal fee of 30 percent rent (When you extend your contract) |
Rent
| Room No. | Rent | Utilities | Exclusive area sq. meters | Remarks | Vacancy Info | Move-in condition | Photo |
| --- | --- | --- | --- | --- | --- | --- | --- |
| 103 | | | 6.5Tatami | | occupied | | |
| 201 | | | 6.5Tatami | | occupied | | |
| 202 | | | 6.5Tatami | | occupied | | |
| 203 | | | 6.5Tatami | | occupied | | |
| 204 | | | 6.5Tatami | No furniture | occupied | | |
| 205 | | | 6.5Tatami | | occupied | | |
| 206 | | | 6.5Tatami | | occupied | | |
| 207 | | | 6.5Tatami | | occupied | | |
| 208 | | | 6.5Tatami | | occupied | | |
| 209 | | | | | occupied | | |
| 210 | | | 6.5Tatami | | occupied | | |
| 211 | | | 6.5Tatami | | occupied | | |
| 212 | | | 6.5Tatami | | occupied | | |
| 213 | | | 6.5Tatami | No furniture | occupied | | |
| 214 | | | 6.5Tatami | | occupied | | |
| 215 | | | 6.5Tatami | | occupied | | |
| 216 | | | 6.5Tatami | | occupied | | |
| 217 | | | 6.5Tatami | No furniture | occupied | | |
| 218 | | | 6.5Tatami | No furniture | occupied | | |
| 219a | | | 6.5Tatami | dormitory | occupied | | |
| 219b | | | 6.5Tatami | dormitory | occupied | | |
| 220a | | | 6.5Tatami | dormitory | occupied | | |
| 220b | 30,000 | 30,000 | 6.5Tatami | dormitory | | Female Only | |
| 221a | | | 6.5Tatami | dormitory | occupied | | |
| 221b | 30,000 | 30,000 | 6.5Tatami | dormitory | | Female Only | |
| 222a | | | 6.5Tatami | dormitory | occupied | | |
| 222b | | | 6.5Tatami | dormitory | occupied | | |
| 301 | | | 6.5Tatami | | occupied | | |
| 302 | | | 6.5Tatami | | occupied | | |
| 303 | | | 6.5Tatami | | occupied | | |
| 304 | | | 6.5Tatami | No furniture | occupied | | |
| 305 | | | 6.5Tatami | | occupied | | |
| 306 | | | 6.5Tatami | | occupied | | |
| 307 | | | 6.5Tatami | | occupied | | |
| 308 | | | 6.5Tatami | | occupied | | |
| 309 | 50,000 | 30,000 | 6.5Tatami | | | 12/28~Available | |
| 310 | | | 6.5Tatami | | occupied | | |
| 311 | | | 6.5Tatami | | occupied | | |
| 312 | | | 6.5Tatami | No furniture | occupied | | |
| 313 | | | 6.5Tatami | | occupied | | |
| 314 | | | 6.5Tatami | No furniture | occupied | 11/27~Available | |
| 315 | | | 6.5Tatami | | occupied | | |
| 316 | | | 6.5Tatami | | occupied | | |
| 317 | | | 6.5Tatami | | occupied | | |
| 318a | | | 6.5Tatami | dormitory | occupied | | |
| 318b | | | 6.5Tatami | dormitory | occupied | | |
| 319a | 30,000 | 30,000 | 6.5Tatami | dormitory | | Male Only, 12/3~Available | |
| 319b | | | 6.5Tatami | dormitory | occupied | | |
| 320a | | | 6.5Tatami | dormitory | occupied | | |
| 320b | 30,000 | 30,000 | 6.5Tatami | dormitory | | Male only | |
| 321a | | | 6.5Tatami | dormitory | occupied | | |
| 321b | | | 6.5Tatami | dormitory | occupied | | |
| 322 | | | 6.5Tatami | | occupied | | |
| 401 | | | 6.5Tatami | | occupied | | |
| 402 | | | 6.5Tatami | | occupied | | |
| 403 | | | 6.5Tatami | | occupied | | |
| 404 | | | 6.5Tatami | | occupied | | |
| 405 | | | 6.5Tatami | | occupied | | |
| 406 | | | 6.5Tatami | | occupied | | |
| 407 | | | 6.5Tatami | | occupied | | |
| 408 | | | 6.5Tatami | | occupied | | |
| 409 | | | 7.6Tatami | | occupied | | |
| 410a | 30,000 | 30,000 | 6.5Tatami | dormitory | | Male only | |
| 410b | | | 6.5Tatami | dormitory | occupied | | |
| 411a | | | 6.5Tatami | dormitory | occupied | | |
| 411b | | | 6.5Tatami | dormitory | occupied | | |
Floor Plan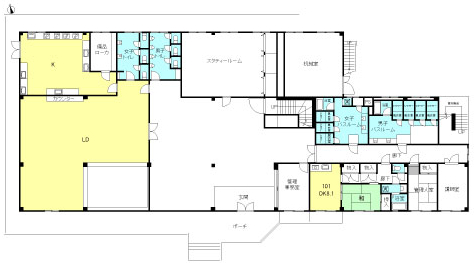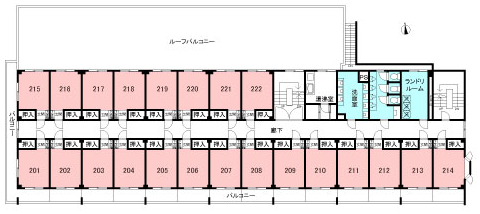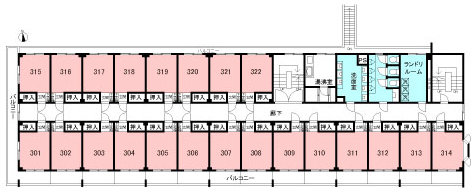 Would you like to stay our share house with nice friendly Japanese??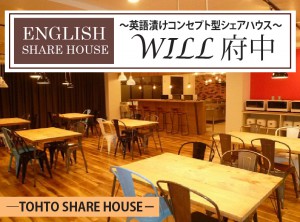 All most all Japanese tenants who live in WILL Fuchu is want to improve their English conversation's skill, for that reason they learn English in the lesson and also various events in WILL Fuchu.
            English is only language that can use in this share house,therefore it can be very comfortable and stress-free house if you are English speaker.Also living with the tenants move in to WILL Fuchu motivated is great stimulating for you! Please contact us if you are interested in this share house!!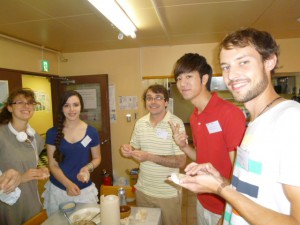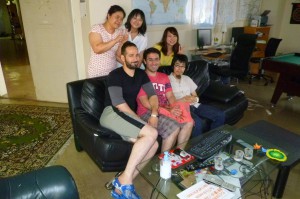 Here is the map of WILL Fuchu